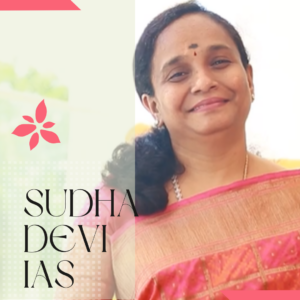 Ms. Sudha Devi
The significance of determination and self-belief in achieving one's goals must be understood by women despite the particular difficulties they face on a daily basis. Sudha Devi IAS had a tremendous will to succeed, which allowed her to accomplish what she set out to do.
Early Life
She was born on December 1, 1975, the daughter of a farmer in Tiruchengode, a town in the Tamil Nadu tehsil of Tamil Nadu. She had a farmer father and a homemaker mother. Sudha was compelled to give up her education because of her young age at marriage.
She joined in college after her four-year marriage ended and finished her degree at Coimbatore in order to study for the civil service exams. She initially got by them.
She is the first woman in her family to enroll in college and work toward a degree. Sudha kept working on her preparations while anxiously waiting. She had a great drive to overcome her challenges and thrive in life.
Her parents persisted in encouraging her even though she was prepared to give up. She consequently endured a constant bombardment of harassment from her family.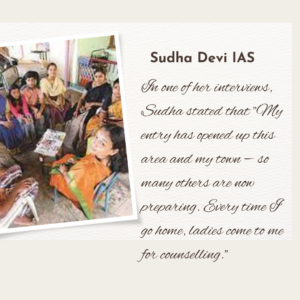 Education:
At Annamalai University in Annamalai Nagar, Tamil Nadu, Sudha Devi graduated with honours with a master's degree in business administration. She completed Phase III Training of the Mid Career Program for IAS Officers from April 29 to June 21, 2013.
She made history by becoming the first woman from her Tamil Nadu agricultural village of Kagavellalar to be nominated for the Indian Administrative Service as an additional commissioner in the Himachal Cadre.
In one of her interviews, Sudha stated that "My entry has opened up this area and my town — so many others are now preparing. Every time I go home, ladies come to me for counselling." She is known as "The People's Officer" when it comes to handling issues involving the general population.
She was well known for her expertise in utilizing cutting-edge technologies to carry out government initiatives locally. Public health care has been transformed by the use of Skype to monitor government physicians. She visited the neighborhoods to inspire the residents to break free from enslavement.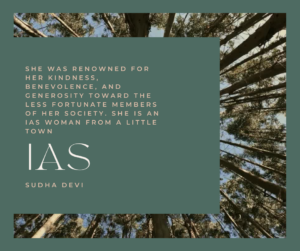 Accomplishments and Career:
The CEO of Tamil Nadu Civil Supplies since 2013, Indian Administrative Service (IAS) officer Sudha Devi now holds this job.
She was in charge of overseeing the implementation of all government programmes, including those relating to social welfare, planting trees, caring for animals, protecting the environment, and panchayat-related projects. The path to success was not straightforward. She faced numerous challenges, yet she never gave up.
Despite being married off as a child, she made the decision not to endure suffering and be a victim of the system for the rest of her life. She has dedicated her life to working to better the lives of thousands of others and reforming the system so that others do not have to face the difficulties she had. This is in contrast to focusing on herself.
One of the great example set by 102-year-old Shyam Saran Negi, who was the oldest voter of Kinnaur district of Himachal Pradesh. The IAS officer M Sudha Devi, who was the deputy commissioner for Kinnaur at the time, went to visit Negi, one of the well-known guys at Kalpa.